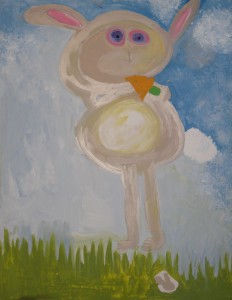 The title of this posting comes from the Bugs Bunny cartoon "Shish Ka Bugs" (see it here) in which Bugs, for obvious reasons, ends up serving a pot full of raw carrots to a king who demands Hasenpfeffer (a rabbit stew).
What the heck does that have to do with a blog about soups?
Well, for one thing this week's recipe is Carrot & Fennel Soup, which ties into the cartoon pretty directly.  It's also about things (especially carrot-related things) surprising you by not being what they seem.
I had made an incarnation of this blended soup over Christmas, and it resulted in a gentle contrast of the sweetness of the carrots and the sharp licorice bite of the fennel. This time, however, I combined the ingredients in different proportions and the final product turned into a rich, buttery puree reminiscent of the best squash soups.  The taste came as a total surprise to me. (Could it have been the 10 pound bag of organic carrots from Costco, my favorite store in the world? Maybe.)
It could also have something to do with my expectations about carrots. This flavor was not something I associated with carrots at all. Of course, I blamed this subterranean vegetable for the confusion, but the fault was all mine.
I did the same thing to the carrot that I complain employers do to me in my job search. I pigeon-holed it.  I put it into the box that best categorized it.  What I didn't do was consider the possibilities carrots have that are outside my current experience.
I think we're all a little guilty of this.  We think in stereotypes because it's easier for us to navigate the world that way. It's not completely honest or completely fair, but it's easier.
What we miss is the sense of possibility. We miss the untapped root of creativity that could inspire great things from each of us, employed, underemployed and unemployed alike.  In this culture we are what we do.
How's that working out for you?
If I can be surprised by a puree of carrots and fennel, I think you could probably surprise me too.  But your life isn't about me, it's about you. Can you surprise yourself?
Or could it be that I just have too much time on my hands?
It's possible.
Note:  Perhaps the better title for this post would be "If I Didn't Know This Was Carrots, I'd Swear It Was Hasenpfeffer."  That's possible too.
Carrot & Fennel Soup
(serves 6-8)
1 tablespoon butter
1 cup onions, chopped
3½ cups carrots, peeled & sliced
3½ cups fennel, sliced
6 cups chicken or vegetable stock
Salt & pepper, to taste
Sour cream, dollops (love that word) garnish each bowl
Heat the butter over medium heat in a 3-quart sauce pot. Add onions and carrots and sauté until tender (about 5 minutes) , stirring occasionally.
Add fennel to the pot and continue to heat (5 minutes more).
Add stock and seasonings (You know who you are salt and pepper) bring to a boil, then reduce to a simmer and continue simmering for about an hour.
Remove from the heat and blend with an immersion blender or in batches using a standing blender.
Serve as a first course or a main dish with a spoonful of sour cream dropped in the middle of the bowl.
Image Credit: Jula Rosenbluh (my daughters' friend from back in California), copyright 2006.
Comments? Questions? Requests?  I wasn't kidding about your joining the conversation.  I'll be listening and responding.